HELO Plus is a compact, advanced H.264 streaming and recording stand-alone appliance. HELO Plus offers both SDI and HDMI I/O with the capability to stream up to 1080p60 to a Content Delivery Network and record simultaneously. Two separate streaming destinations can be set up and recordings can be made to a combination of SD card, USB storage and NFS or CIFS network storage. HELO Plus also provides Picture-In-Picture and graphics functionality in hardware for compelling presentations made simple.
HELO Plus offers high quality streaming with ultra-reliable performance for any critical streaming service needs, including eSports, news, sports, education, creator, live events, and beyond.
Features
Portable, stand-alone device with 3G-SDI and HDMI I/O
Encode up to 1080p60 in H.264/MPEG-4
Stream to two separate destinations simultaneously
Create Picture-in-Picture streaming/recording output from multiple input sources
2-channel stereo audio
Analog stereo audio out
Front panel LED audio meters
Data rates from 100 kbps to 20 Mbps in MPEG-4
Record to SD, SDHC, or SDXC cards, USB storage, NFS, CIFS, or SMB network volumes
USB slot and SD card slot for local external storage
Video input and output on 3G-SDI and HDMI
Support for RTP/UDP, RTSP, RTMP, RTMPS, HLS, and Unicast
SRT compatibility
AV Mute with user graphics upload support for pre-live feeds
Web-based GUI preview window
Group control for multiple HELO Plus and Ki Pro devices
Three Year Warranty
Hardware
HELO Plus is compact, with a very small desktop footprint.  It offers stand-alone capabilities with stream and record buttons on the front of the unit as well as LED indicators. Audio level meters provide valuable feedback about incoming audio. HELO Plus is fanless and silent, allowing it to be used almost anywhere without fear of introducing noise. SD card and USB ports are also situated on the front of the unit for easy access.
Remote or Local Control
HELO Plus can be easily configured remotely on a standard web browser, via the Ethernet connection, and using a desktop or laptop computer. Every function of HELO Plus is accessible in the WebUI, with multiple HELO Plus devices being easily controllable via a tabbed browser window. Once set up to your requirements, HELO Plus can also be controlled via the stream and record buttons on the front of the device, with audio level LED meters providing feedback for monitoring, or the system can be controlled directly from the included web-based UI. There's also the option for remote control via the system's integrated REST API.
Video and Audio Support
Video Formats
(HD) 1080p 23.98, 24, 25, 29.97, 30, 50, 59.94, 60
(HD) 1080i 50, 59.94, 60
(HD) 720p 50, 59.94, 60
(SD) 525i, 625i
Video Codec Support
Audio Encoding Parameters
32 kbps to 256 kbps
48 kHz 2-channel stereo
MPEG-4 AAC-LC
SRT Support
SRT is an open source video transport protocol and technology stack, developed and pioneered by Haivision, that optimizes streaming performance across unpredictable networks with secure streams and easy firewall traversal, bringing the best quality live video over the worst networks. The SRT Open Source Project, supported by the SRT Alliance, is a collaborative community of industry leaders and developers striving to achieve lower latency internet video transport by continuously improving open-source SRT.
HELO Plus includes SRT (plus encryption) to ensure you are well positioned to deliver streaming video content securely, with low latency and secure reliability.
HELO Plus Connections and Indicators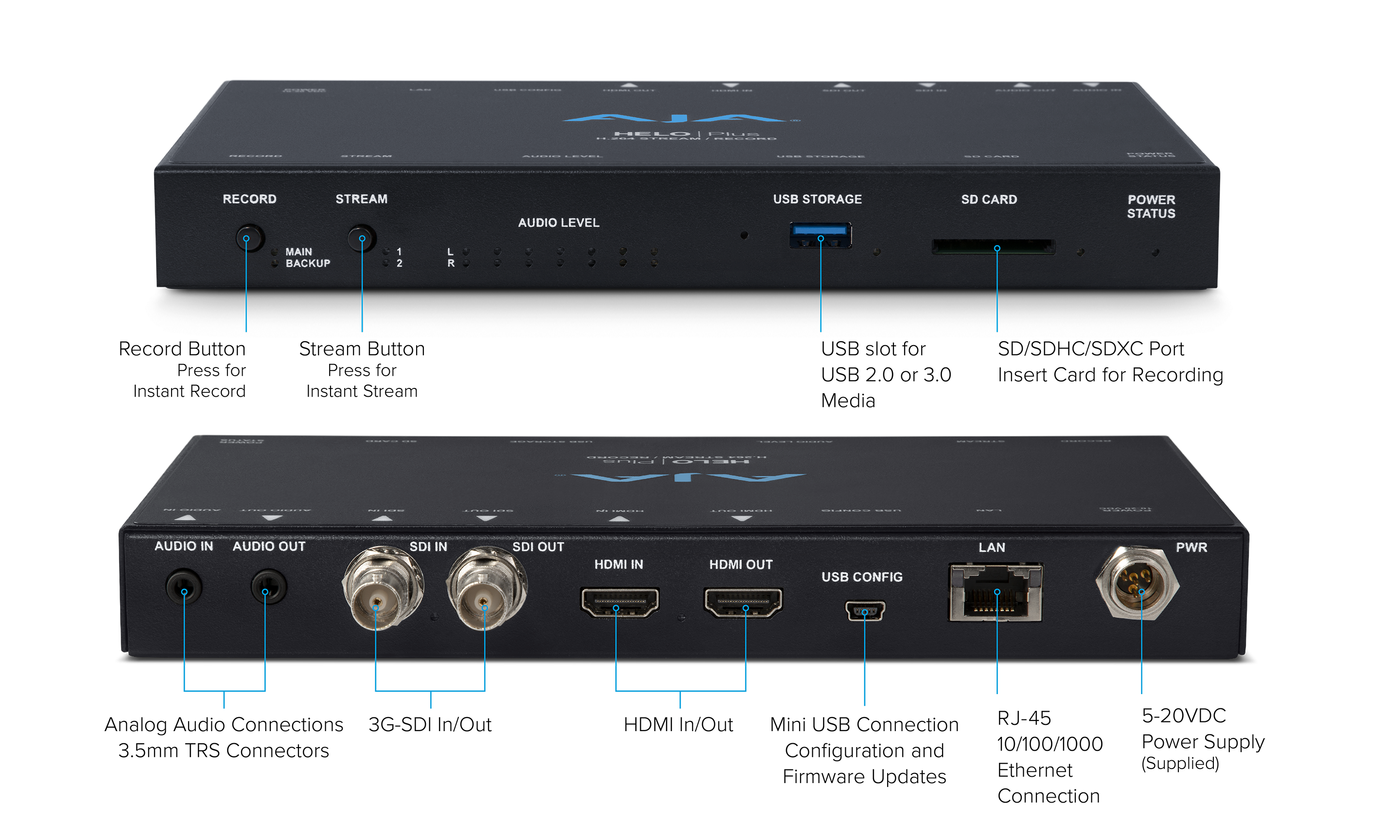 HELO Plus offers all the professional digital I/O you need to make HELO Plus the heart of your streaming service. The easy to access front panel buttons make starting and stopping your stream simple.
Front of the HELO Plus:
Record button
Main and Backup LED indicators
Stream button
Streaming LED indicators
LED Stereo VU meters
1x USB 3.2 Gen1 port (5Gb/s) for media recording and playback. This USB connection can supply 1A of current to the storage device, allowing it to work with modern, larger memory sticks.
USB LED indicator
1x SD card slot for media recording and playback
SD card LED indicator
Rear of the HELO Plus:
1x Stereo analog audio input
1x Stereo analog audio output
1x 3G-SDI input
SDI signal LED indicator
1x 3G-SDI output
1x HDMI 1.4a input
HDMI signal LED indicator
1x HDMI 1.4a output
1x Dedicated Micro USB port for use with AJA Mini-Config software
1x 1GigE network connection for control and SMB recording/playback
1x Locking power connector
Operational Flexibility
HELO Plus' small footprint form factor and silent operation allow it to fit on any desktop, with the operator using the easy to access front panel start/stop buttons. But just as simply, HELO Plus can be operated remotely from a desktop or laptop computer via Ethernet, which is especially useful for multiple HELO Plus use cases. HELO Plus is designed to give you the flexibility to configure and deploy HELO Plus to your needs in the field, home, or studio. HELO Plus fits any streaming need imaginable, from sports, news, creator, education, eSports, remote workflows, and many more. REST API capabilities provide control for all functions of the HELO Plus, regardless of the scenario, allowing for user developed integration and automation.
Simultaneous Stream and Record
HELO Plus has the capability to stream and record up to 1080p60 simultaneously in the following combinations:
Stream to two destinations and record to SD local storage simultaneously

Stream to two destinations and record to USB local storage simultaneously

Stream to two destinations and record to NFS/CIFS network storage simultaneously
Having a recorded backup of the video stream provides a high quality H.264 version for editing applications, with the most suitable storage being selected. Network storage may make more sense for edit sharing, while an SD card or USB recording provides an easy takeaway for clients or editors.
Calendar Integration
HELO Plus opens up a world of new streaming workflows for AV, live events, houses of worship, webcasting, corporate communications, production, and post. HELO Plus offers a scheduler that triggers pre-planned start and stop recording and streaming media, simplifying projects requiring definitive schedules. The schedule may be programmed locally through HELO Plus' web UI, importing .ics files, or linking to external calendar providers such as Google Calendar.
Layouts – Powerful Multi-Input Video Processing
HELO Plus brings the exciting layouts feature, allowing multiple inputs to be combined into a single screen with a graphic element overlay. A layout enables the user to combine the SDI input and the HDMI input into a single output stream and then add a graphic (video + key) into that composite. The layout can have up to 3 layers, and their priority can be arbitrarily adjusted to suit the customer's needs. In addition to the layering engine, both the SDI and the HDMI layers can be arbitrarily downscaled and positioned anywhere in the frame. Effectively, each live video source can be used in its picture-in-picture (PiP) element.
The system also has an internal matte generator, which can be used as the background. In this way, the graphic can be keyed over the dual PiP images, which are "over" a flat matte background. The system can accurately switch from one layout to another frame, allowing the user to "cut" between layouts during a streaming session. Layouts are stored in one of the 20 Presets, allowing users to recall all of the parameters needed for a specific purpose. There are 10 layouts stored in each preset, so the user recalls the show's preset and can then switch between those 10 layouts at will.
The graphics system is equally impressive – The system stores 90+ images in its internal, non-volatile memory.
Dual Streaming Outputs
HELO Plus has dual encoders for streaming outputs, giving the flexibility to create different output settings from a single input source. The two encoders can have different packaging settings and different output frame sizes, which means that a single content stream can be presented in two ways to serve a wider audience. It can also be duplicated across both encoders for added resilience. Either of these encoder outputs can serve as the source for the HELO Plus recording system as well.